Easybrain year 2019 at a glance
January 22, 2020
After jumping into a new decade, let's remember the highlights and the biggest moments of Easybrain 2019:
Easybrain went over 370,000,000 downloads: we started the year with a little more than 100,000,000 and firmly surpassed the 200M and 300M milestones. This tempo allowed us to get on the list of Top Publishers by Absolute Downloads on SensorTower in a number of countries. For instance, in December on the App Store in the US, Easybrain was a third casual game publisher after Electronic Arts and Disney with only hyper-casual companies ahead and app giants such as Facebook, Netflix and Uber behind.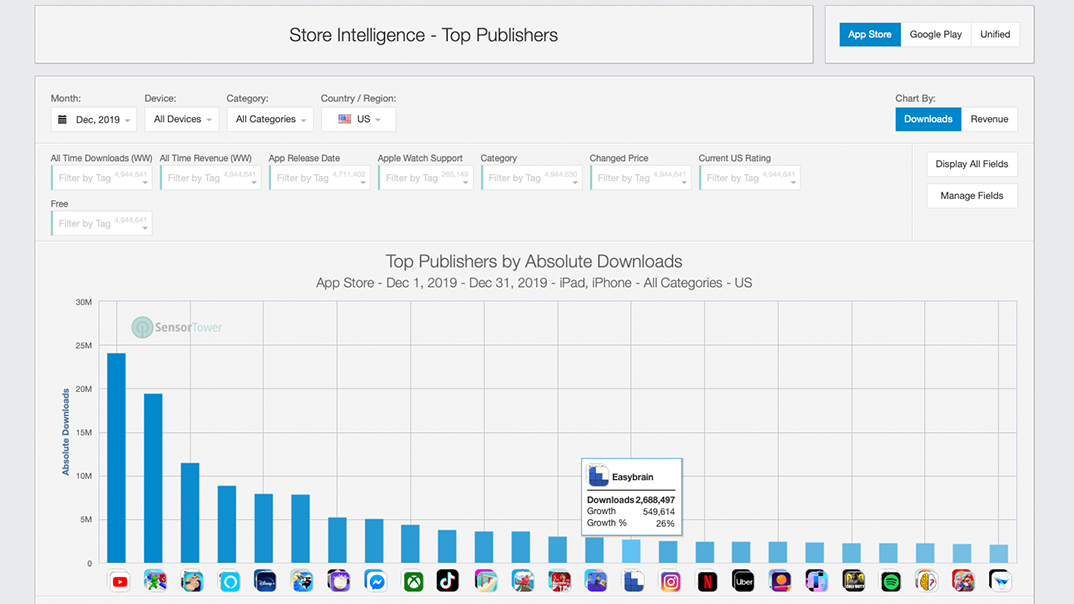 Five new games released: tile-matching and sudoku mix BlockuDoku, picture cross puzzle Nonogram.com, music maker Groovepad, brain teaser Differences, and crossword game Word Search. In addition, one of our first iOS apps — Jigsaw Puzzles — became available on Google Play.
Google Play Pass pioneering: Easybrain became one of the first publishers to join in. Android versions of classic Sudoku.com, newly released Nonogram.com, colouring app Pixel Art, and colourful Jigsaw Puzzles were enrolled.
Music apps success: developed by BeatHead and published by Easybrain, Drum Pad Machine and Groovepad got featured in Best of 2019 on Google Play and the App Store. Moreover, Groovepad became one of the most popular new apps of Q4 2019 (according to SensorTower report).
Dynamic team growth: we started the year with 100 people and reached 165! Our Limassol office expanded to the whole floor in the Oval. We benefit a lot from a forward-looking HR policy to build a team of strong professionals and ensure their development. To see the open positions, go to the careers page.
Educational initiatives going on: Easybrain opened three more STEM centres and spent two IT Vacations with young tech enthusiasts from previously sponsored schools.
Fostering IT community: we supported a number of industry events, including becoming a Platinum Sponsor of DevGAMM Minsk, the biggest conference for game industry professionals in Russia, Ukraine, and Belarus.
Let's keep in touch in 2020! Join us on Instagram and Facebook.
Get Easybrain apps on Google Play and the App Store.